Microsuction Earwax Removal
Microsuction Ear Wax Removal in Glasgow and Cumbernauld
Direct Vision Microscope
The outdated irrigation or ear-syringing technique required blind application. We can see perfectly within your ear canal thanks to a direct vision microscope. As a result, the process is effective and safe, and you will leave our clinic with totally wax-free ears.
Trained by ENT Consultants
We are fully qualified audiologists of long-standing. In addition, we undertook our microsuction earwax removal training under the guidance of hospital ENT consultants with real wax and real patients. Your ears will be in the safest hands.

Fast, Effective and Pain Free
Ear cleaning normally takes 15 to 20 minutes. As we can view every nook and cranny in your ear canal, the procedure is safe. Very occasionally, we'll need to soften the wax with hypoallergenic oil. Most times, we completely clear our patients' ears in a single session.
Home Visits Available
Microsuction earwax removal can be performed in your home for those with mobility issues. We also provide visits to nursing homes. We use an endoscopic unit, a small, portable video camera to look inside the ear canal, and gentle suction to remove the debris within.
Microsuction Earwax Removal in Action
Michael is pictured here examining a patient's ears. As you can see, he uses a binocular microscope, which he considers a crucial tool in managing earwax. The improved depth of field and clarity of vision provides the best view of your ears and a thorough evaluation both before and during the wax removal treatment.
An endoscope is an instrument used to check inside your ear canal and is usually linked to a video monitor for easier viewing. Direct viewing is also enabled via the eyepiece. The tip of the lightweight and portable video oto-endoscope provide a high-definition and wide-angle view of your whole ear canal and eardrum to allow safe and effective earwax removal.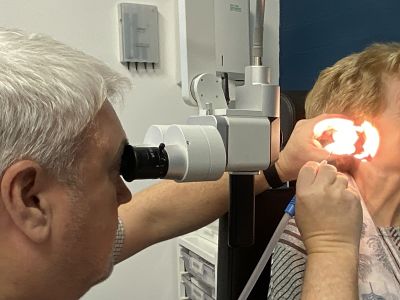 Alan Hopkirk, Clinical Director, uses a small, sterile tube and gentle, low-pressure suction to remove earwax. We also employ ENT-approved instruments to delicately remove wax from your ear canal in cases of more problematic impacted wax. You will frequently experience a marked improvement in your hearing and a sense of improved well-being after the procedure.